It's a sign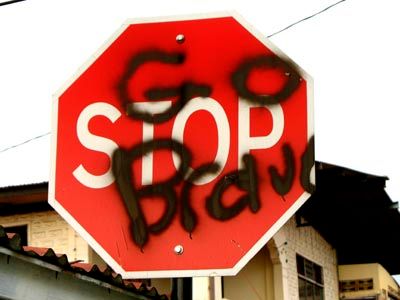 Yesterday my mechanic (Lenny) was driving me in his car through Curepe when I noticed this sign. I asked him to stop so I could get a photo of it. When I returned to the car, he was curious as to why I would want to take a picture of a vandalised road sign. It actually hadn't even occurred to me that it had been vandalised, since at the moment I noticed it, all I saw was a message telling me "Go ahead, don't be afraid, you can do it, believe in what you are doing ...". To me, it was confirmation for #3 from
the conclusions in
yesterday's post
.
Lenny chuckled and said "I didn't see it that way." He told me he had seen it as someone defacing a sign (actually a few road signs throughout Curepe) and that the vandal was in fact suggesting that drivers break the law, break the major road, 'go trough

hard' and ignore the fact that other cars may be coming.
Inspiration and irresponsibility in one sign.
This led us to speak about perspective ... the fact that we can look at life around us in such different ways. That led us to talk about awareness ... and the fact that we all play a part in helping each other to see things in different ways. This led Lenny to tell me about an interesting nationwide awareness-raising project he has been thinking of initiating. That led me to realise yet again that there are people out there with great intentions for positive transformation ... and the only thing is for Step #1 to occur:
Begin
.
*
Elspeth