Step #2: Howie
"In dis day and age, promising lights, road and water is banana republic issues. Not 20/20 issues."
- Howie -
(reflecting on the Government and their promises)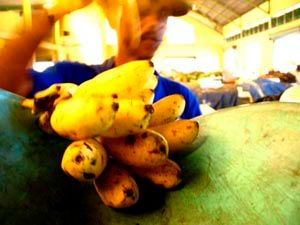 I first met Howie when I went to buy bananas in Tunapuna Market on Saturday. I was struck by the way he spoke to me and each one of his customers: "How you going? You having a good day?" I told him I was an artist and asked if I could come back to talk with him for a project I am exploring. He said yes.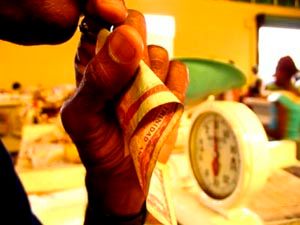 I returned on Sunday with my camera, dictaphone and
the question
written on a piece of paper - curious to see how it would be interpreted out of context. When Howie read it, he exclaimed: "Eh!!" and chuckled, raising his eyebrows (as if to say 'heavy topic'). I explained to him that it's not about politics, not about the Prime Minister, but about each one of us ... (
etc
). He listened, nodding in agreement.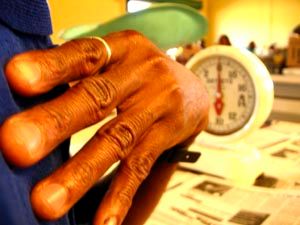 What I thought would be a ten to fifteen minute chat ended up being two hours long (bits of which were recorded):
Read the transcription of the conversation with Howie
(Don't worry - the transcription itself isn't 2 hours long!)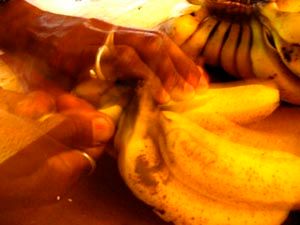 Clues I got from (and conclusions I made after) Step #2:
1. The question needs to be adjusted yet again.
Because of its phrasing, people may be inclined to start discussing Government and politics (as being responsible for solving issues) and stray away from the focus on Self and what we can do as everyday individuals. In light of this, I asked Howie to rephrase the question. His suggestion:
What would you do to get this country to move as one?
*
2. Each step does not have to be a person. It may be a place or thing.
*
3. Some steps will be small, some tentative, some large, some seemingly insignificant. The thing is to proceed anyway and don't doubt the process. It is leading somewhere valid.
4. Some key words: awareness, association, community.
5. A few other thoughts (which I won't list here) stimulated by Howie's conversation.
If you want to be notified of each step, just send me
an e-mail with your name and mailing address and I will add you to the project mailing list. I will continue to update the blog daily (but not necessarily with specific steps, as these will come in their own time).