Sometimes I confuse myself (video)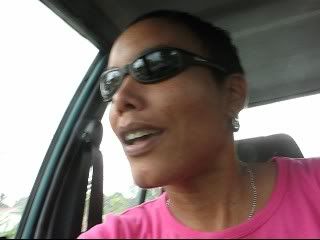 Driving my car in St. Augustine with Love Bee -
my digital camera (Canon A620 powershot)
- in my lap, trying to make up my mind about something.
Can you figure out what?
I recorded my thinking aloud then chopped up the footage and rearranged the pieces so that the order of what I'm saying is all mixed up. The audio recording facility on the camera is good for a small digital camera, but not of the quality of my larger video camera, so it makes me sound like I have a slight metallic 'lithp' ... but that's okay. It's definitely a conveniently sized way of recording quick little videos and I like it for that.
N.B. Video might take a little while to download if you have a dial up connection. But be patient and it will happen.
*