T&T vs Sweden today
Guten tag. I wish I had my dictaphone on me a while ago as I took my usual walk down the road to buy papers. The newspaper stand looked like a sea of red, with a whole set of men gathered around it, discussing World Cup and today's match: Trinidad & Tobago vs Sweden. Unfortunately I only recall three snippets from the barrage of excited conversation:
1.
... an' de coach was in teeeeeeeeeeears, yuh know!
(from a man by the stand, probably talking about another team that had lost their match)
2.
Allyuh, TT go surprise you wit a cup!! You feel dey cyah win World Cup!
(said with conviction from the newspaper lady)
3.
Even if dey draw self dere go be tears!
(stated confidently by one of two men who were walking up the road in front of me discussing the match)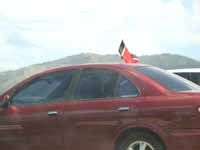 One of the many cars with a TT flags, parked on Lady Young Lookout
From about midday the streets of Trinidad & Tobago will be dead as everyone sits glued to their TVs ... whether in homes or bars, liming with friends or family. We'll see what happens.
Win
or
lose
will determine whether the streets after the match will be a sea of screaming red or empty silence.
*
Do your best, Warriors.
*