We did I Do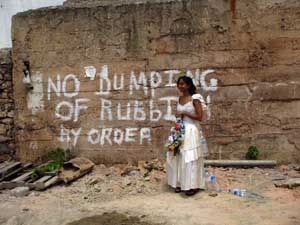 In this shot her trail looks scant, since this was towards the end of the morning and most of the bottles had been cut off by members of the public.
A lot of fun was had by all ... a lot of attention was grabbed as members of the public gawked at the unexpected spectacle of a young bride walking through the streets of Port of Spain dragging a trail of plastic bottles behind her ... a lot of commitments were made ... and a lot of awareness was raised. (Go
here
for more photos with captions).
*