Introducing the Quenk and the Judges
As mentioned before, I was looking for someone to make a special clay piggy bank for this year's Happy Hippy Hero trophy. The recipient of last year's Happy Hippy Hero's Award, Detta Buch, offered her services. Below is a sneak peek at the quenk she has so masterfully been creating for this year's winner.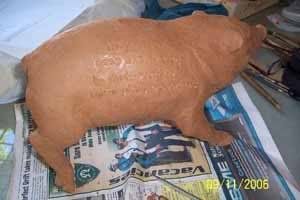 Inscription (also on last year's piggy bank trophy): May all that goes into this be multiplied to miraculous proportions.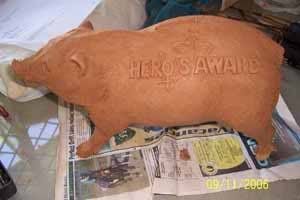 Inscription on side of quenk shows Happy Hippy logo.
*
Now meet the judges. On a professional level, they are all involved in some way in social or humanitarian work. They are excellent when it comes to fairness and evaluation of character and cause. On a personal level, they are fun loving, caring individuals who are doing their part to make the world a better place.
*
Glenford Bhagat
is a dedicated
Brahma Kumari
and manager of
Afford Office Line
(Manufacturers, Suppliers, Designers, Custom Builders and Refurbishers of Office Furniture). He conducts ongoing motivational sessions at a drug rehabilitation centre and is one of the founding members of
The Greenlight Network
Shivonne DuBarry
is an environmental activist and longtime worker in the field of sexual and reproductive health and the rights of women and children.
Nicola Cross
is an Environment and Development Practitioner. She has had extensive experience working with Community Based Organisations and Non-Governmental Organisations in the development of projects that consider environmental, economic and social issues.
O'Leo Lokai
is a writer, activist and founder of Red Intitiative (an HIV, AIDs and STI awareness/prevention NGO). Through Red Initiative he also assists other NGOs with programme and project development.
**********
You know of someone who deserves this award. Nominate now.
Click on the Happy Hippy Hero's logo in the sidebar for the nomination form, criteria and further details.
Deadline for submission of nominees: 17 November, 2006