Fire Gathering, Fire Offering
2006 wasn't a 'good' or a 'bad' year, it was just inexplicable. I'm glad to say 'Thank You' and move on. Even though a new year is 'just another day', it carries the energy of millions (billions?) of people worldwide anticipating a transition. As usual, I will keep my transition simple and symbolic.
This morning I will walk
the Holy Trinity labyrinth
. Then later this evening, from 6 p.m. to 7:30 p.m. I will have a bonfire in the back garden. Several friends will come over and take part in this symbolic ritual.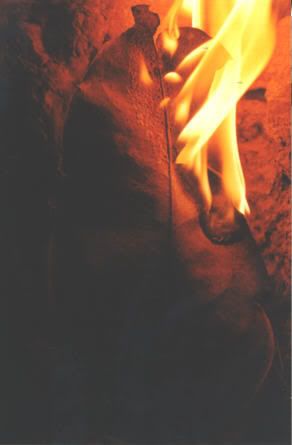 Each of us will be throwing two things into the fire:
1. Paper on which is written our hopes, dreams, prayers, wishes, goals, etc.
2. Paper on which is written things we want to let go of.
Our hopes, dreams, prayers, wishes, goals, etc. will rise up in the smoke to the sky where they will be answered. The 'let go' things will be purified and transformed in the flames.
Wishing each of you a meaningful transition into another day, another year.