Special Christmas Eve
Morning:
Breakfast with two of my good friends, Nisha and Rosanna, at Nisha's house. Egg soufle, and carrot/mango/pineapple juice, olive balls (olives rolled in cheese pastry), assorted nuts.
*
Midday:
Went with Rosanna to visit the
children at the farm
and take a few large bags of second hand clothing for them, along with sketch pads, crayons and markers.
Mid Afternoon:
Hooked up with Kris for her birthday, got delicious cake and a card labelled "Spec star" with instructions to write nine wishes and, later on, to look at the brightest star and read my wishes. Went and walked the labyrinth, released and received. It was quiet, peaceful, perfect.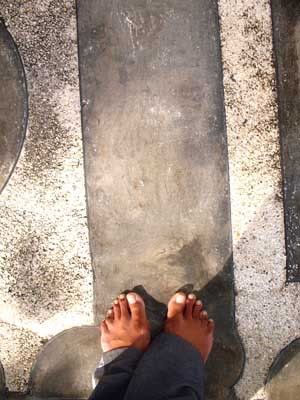 Latish afternoon:
Went for Gelatto ice cream. Each time I try a different flavour. Had vanilla today. Drove back through Santa Cruz.
Early evening:
Set up a spontaneous little Christmas tree for me and Jasper, made of a camera tripod, with one decoration hanging on it (a disco ball I had bought in Little Store after breakfast at Nisha's). Put the gifts under it and Jasper promptly went to investigate but did not rip the paper. Tomorrow will transport the gifts to under the family tree.
Early Night:
My instructions were to keep the 'Spec star' card until the end of the year 2007 and see how many of the wishes came true. But I decided to burn it. By burning written wishes, prayers, etc., I believe they go up to the celestial spheres. Also, the fire is purifying. And, as I said to Kris, I don't need to read the wishes over a year later. I will know they come true when they actually happen. So, went to bottom of garden with
Pippa
, lit a bunch of incense, stuck them in the ground and burnt the 'Spec star' card /wishes in a clay vessel. Sprinkled the ashes onto the earth after.
Now:
Lit six andles around the tripod tree ... one tall blue one in a glass jar from the Mount, one 'cedars on snow' from J, two purple tea lights from a bunch Frances had given me, one tea light in my aromatherapy vessel, one orange bees wax candle from Merle who had given us each one after the
Kundalini yoga winter solstice retreat
.