A five star day
(Canada Chronicles continued ...)
Yesterday I left home early and embarked upon what turned out to be a fantastic day-into-night experience.
To briefly put things into context, the work I 'ended up' doing (as a result of the
reflexology getting canceled
) is with a small independent film company. I am working as assistant director on a documentary about the drummer,
Muhtadi
.
Since I have to go with the crew to interview/film him next week, I decided to introduce myself to him before hand and, better yet, to meet him and experience him/his work by going to his Saturday drum class. When I called, he told me that the Centre where the class is normally held would be closed, so the class would be held outdoors, on Hanlan's Point (on
Toronto Islands
) from 1 - 3 p.m. I was to meet him by the ferry around 10 a.m. and we would go across together.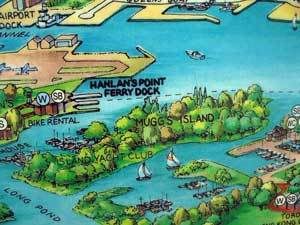 One of the women from the drum circle, her son and a friend were waiting for the ferry when we arrived and we all rode over together. Before the others came, we sat down chatting, had some wine and literally 'chilled out' (it was a freezing day .. so we built a fire in the barbecue pit to keep ourselves and the drums warm).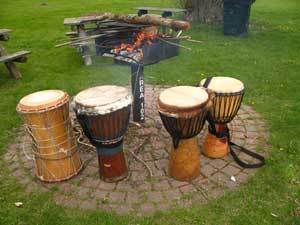 My drum (borrowed from Muhtadi) is third from the left.
We learnt a South African rhythm which is played to celebrate the marriage of two people. This will be performed by the class when a couple (can't remember their names) who met at the drum festival seven years ago will be having their wedding at this year's event in early June.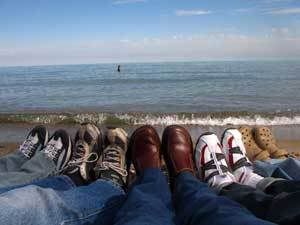 Lying on 'the beach' ... from l. to r.: Nancy, Elyad, me, Karen, Traci (all members of the drum class)

The people in the drum class felt like kindred spirits and I connected easily with some in particular. When it was all over, we went walking around the island for a long while, talking, taking everything in and making plans for a few things we want to do next week. By the end of it all, as we all headed for the subway to go home (exhausted and happy), I felt as though I'd known them for ages.
I would give that day five out of five stars.
Labels: experiences, toronto