Twin Tapes: Transcription #6
The little girl from Transcription #4 takes it upon herself to interview me on that same Saturday about 2 weeks ago.
(Transcribed from dictaphone).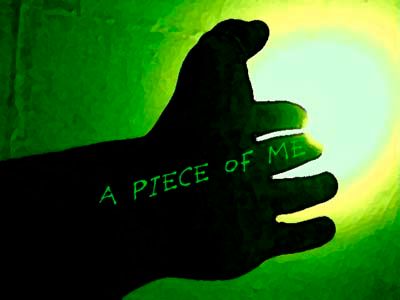 LITTLE GIRL: What does this message mean to you?
HAPPY HIPPY: My twin that was lost?
(LG's Mother in background shouting to men working in garden): Y'all need ice?
LG: Yes. What does it mean to you?
HH: To me ... well, funnily enough, when I was growing up, I felt as though I had a ... or I wished that I had a twin when I was growing up. And actually, I did feel as though there must have been ... there was a sense of a twin in my life, but I just was never able to ...
LG: See it or feel it?
HH: I felt it ... but I couldn't see it. But I felt ... ahm ... I was supposed to have a twin, but obviously I wasn't born a twin. But I did always have a feeling of a twin and I think as I got older that translated into wanting to find ... connect with somebody who's yuh know ...
LG (singing out): Who is like your twin!
HH: Yeah ... who I could have that connection with, then. So when I read this message that's what comes to mind for me.
LG: Now! What is your favourite colour of the rainbow which you can remember in this message?
HH: Which colour would I apply to this?
LG: Yes.
HH: I would say green.
LG: Why green?
HH: Green is the first colour that comes to mind because it's ... life, it's plants ...
LG: But why would you think that that reminds you of your twin in some way?
HH: Well green is a colour of growth and life, so that if something is missing ... whatever that aspect is, then it means that it's growing.
LG: It's growing ...
HH: It's growing because it's green.

*
Tomorrow
: They are everywhere ...
(The final transcription before the true twin story is revealed)
*