The logo
It was suggested in a
comment
written yesterday that the logo for the HHH Award be used on t-shirts, etc.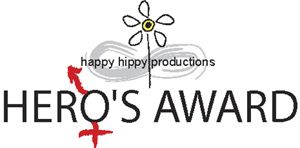 This is true of logos in general. They end up on 'everything'. Since the decision to have the HHH Awards was a fairly spontaneous one, I did not actually get around to getting a trophy or medal done up with the recipient's name on it (or the logo, since the logo was only inspired recently based on a
comment
made two days ago). It so happens that within a few days I will be going away again (until 31 December), hence my decision to present the award
now
(is wow)
and not later in the year (hence very little time to initiate printing-of-logo-on-items activities).
*
Anyway ... This year's recipient will get a commemorative item in addition to a cheque, but the commemorative item will be handmade. Next year (and in years to come) it can be refined further, whilst still maintaining its organic feel.
*