And the Winner is ...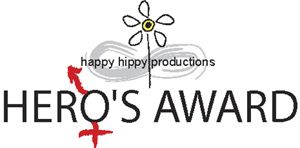 THE RECIPIENT OF THE HAPPY HIPPY HERO'S AWARD 2005 is
Detta van Aardt-Buch

Founder of W.O.R.C., the Wildlife Orphanage & Rehabilitation Centre (Trinidad & Tobago) .
Admired and rewarded for her selfless dedication to the cause of caring for and rehabilitating wildlife in Trinidad & Tobago.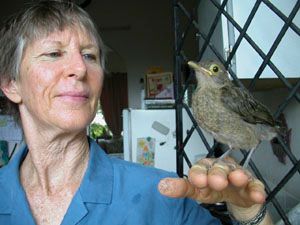 A proud Detta with one of her patients
Happy Hippy Productions is proud to present Detta with a donation towards W.O.R.C. and a commemorative item to honour the occasion.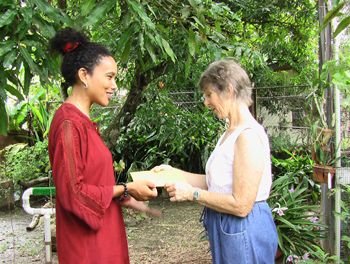 Elspeth Duncan, Happy Hippy Productions, presents Detta Buch with a H.H.P. cheque for W.O.R.C.
*
*
Click on that link to read more about the origins of the trophy and the $10 concept.
*
The name Detta Buch has become virtually synonymous with the cause of rehabilitating wildlife in Trinidad & Tobago. If you have ever found an injured wild animal, you have more than likely been referred to "Detta". Her name is a salve for the wild and wounded.
*
Rather than write
about the recipient of the first annual Happy Hippy Hero Award, I decided to ask her a few questions so that she could represent herself and her thoughts in her own words.
Click here to read the full interview with Detta
. A must-read for anyone interested in wildlife rehabilitation and/or willing to assist W.O.R.C. (financially or otherwise), with their much needed work.
*
An excerpt: Detta's answer to Question #8:
E: What is your greatest joy in this work?

Detta: Being able to release a healthy animal into its own environment, after an illness or injury is a profoundly satisfying and humbling experience. It makes one appreciate the grander picture and raises ones spirits above the disappointments and let-downs. The other unique feature of the work is becoming intimate with each patient and discovering the rich emotional landscape of its personality and species. I have learned more from the cases I've treated than I could articulate in common language. It is translated in the way I approach other cases and has influenced the way I engage people.
*

*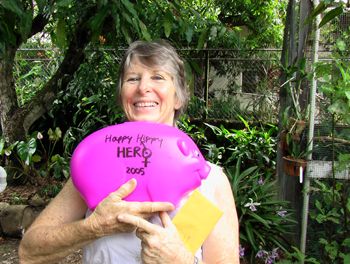 Detta poses with the piggy bank trophy, which she says will accompany her to conferences at home and abroad, where it will sit on a table and gather funds for W.O.R.C.

*
Click here to see more photos from yesterday's prize giving
(complete with a brief written commentary for each photo so you will understand the story behind it)
*
Click here to visit
the W.O.R.C. website
which, although still a work in progress, is quite informative.
*
Cash/cheque donations may be made to the Wildlife Orphanage & Rehabilitation Centre,
Account # 901 101 100 5 at any branch of RBTT

, Trinidad & Tobago, W.I.
Donations go towards food bills, medical and repair equipment and infrastructure.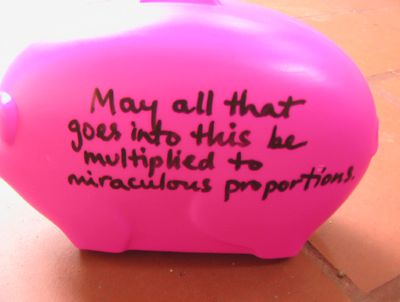 Image shows prayer written on right side of piggy bank trophy.
Interested in helping/volunteering in some way... or want more information?
*
In closing ... congratulations, Detta! May you be blessed with continued health, strength, guidance and assistance in following your calling.
*
TOMORROW: THE OSPREY'S LOG
(Notes on the healing journey of an Osprey brought in with gun shot wounds - inclusive of photos.)
*