The 'big day' is tomorrow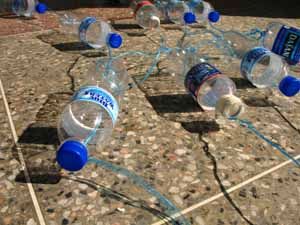 Tomorrow's 'wedding' in Arima will be somewhat different to the
last one
in Port of Spain. To begin with, the bride will be played by a different person (Terscha). She will be a little more ornate (environmentally designed tiara, new bouquet of garbage and possibly face/body paint). She will also have an attendant/flower girl accompanying her, playing the bottle and spoon and holding the large transparent garbage bag into which members of the public will place the bottles once they remove them from her trail. The rest of us will be reading the pledge to members of the public and tying green commitment bands on their wrists when they say "I do."
If you are interested in being a part of
I DO 2
, do not hesitate to be there. These are details for
the route
and two meeting places:
(a)
the starting point itself (in Arima)
-
start 8:00 a.m.
(b)
the meeting point (in Curepe)
for those who want to travel in the car pool -
meet 7:00 a.m., to leave by 7:15 latest
.
See you there.
*