One 'Wow' after another
Yesterday I received a wonderful gift in the mail from the blogger
Kikipotamus
(Kelly). Some time ago she had had a blogwarming party (she was moving her blog address) and sent special invitations to people who read her blog. One 'activity' at the party was a kind of treasure hunt, with the clues (questions) leading to answers which could be found on her blog or on the blogs of other bloggers in her sidebar. There were prizes. I ended up getting many of the questions right and my prize was to be a pair of earrings which she would make.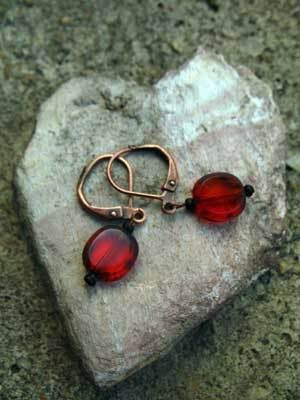 One of the pairs of earrings made by Kelly (which I got yesterday).
It is on one of the heart-shaped stones I found at Toco during the silent retreat.
It took ages for the package to arrive (from the time she e-mailed and told me she had sent it). I thought it was either lost or that some postal person had opened it, liked the earrings and kept them. When the envelope arrived yesterday it felt like a lovely surprise from the middle of nowhere.
Upon opening the large envelope, I found myself saying "Wow!' with every discovery. I was amazed to find not only the pair of earrings featured in photo above, but lots of other simple, unexpected treasures: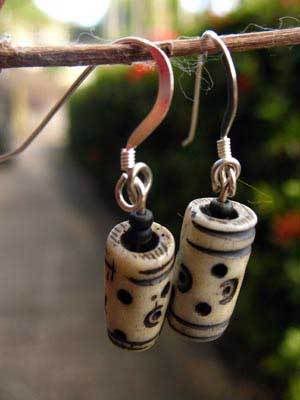 This pair of earrings was also included in the gift pack. Ironically or not, my tattoo is etched on them. I wore them last night when I went out and they looked great.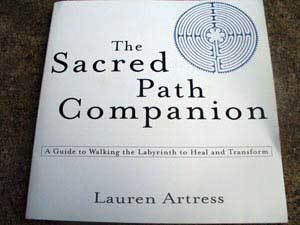 This book by Lauren Artress - The Sacred Path Companion: A Guide to Walking the Labyrinth to Heal and Transform. Very apt. I immediately opened it and it fell on a page containing a message which I found extremely relevant and helpful.
This blank card and its envelope were tucked in the labyrinth book. It is a lovely watercolour entitled "Scott Plantation Settlement", painted by Dottie Morissey, Kelly's mother. I like the fact that Kelly wrote nothing in the card, but left it 'blank'. Immediately, its emptiness did not strike me as blank, but containing a full message. (Perhaps because of what I had read when I opened the labyrinth book).
Last but not least, there was this little box with a rainbow drawn on it with markers. It had a special feel to it. I shook it and there was no sound. The sides were taped and for some reason I decided not to open it until today. (This reminded me of a story I'd written once. Maybe I'll share it tomorrow as a blog post). When I woke up this morning, I opened the little box and there, wrapped/nestled in green kite paper (which is why it wasn't rattling when I shook it), was a pristine white feather (looks as if it is carved from bone?) attached to a long white cord. Again, it spoke volumes. I am wearing it now.
Thank you, Kelly, for those great gifts! Simple, powerful and appreciated.
Elspeth
Labels: gifts, serendipity