Upcoming attractions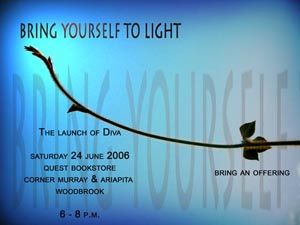 As soon as details are confirmed (national and otherwise), this invitation will be officially sent out to the honourable Diva's Launch invitees and performers.
*
For a while there, Soca Warriors took centre stage on the blog. Meanwhile, behind the scenes, the Launch of Diva was being quietly planned, invitees confirmed and performers secured. It promises to be an enchanting (and enchanted) evening which we all are excited about being a part of ... but, in light of recent 'developments', I am wondering if the Soca Warriors will be returning to TT that day! If so, God alone knows what will take place on the streets of this country. Or, maybe Patrick M alone knows, since he announced on TV last night that there will be "celebrations the likes of which this country has never seen before" ... and that it would be forward of him to divluge anything further at this point.
Until the point that he 'divulges', it remains a mystery whether or not Diva will be launched on the chosen day (Saturday 24th June, 2006). It also remains a mystery whether or not my sister Vanessa, returning from holiday (Piarco) on Thursday will land amidst a sea of red and have to:
(b)
hitch a ride home with Beenhakker
(c)
stay put and make the most of the Piarco melee by celebrating with the welcome-home masses until its all over
I have a feeling she will choose
(d)
.
*
Labels: window lamps