Crouch the Grouch should slouch (with shame)
By now everyone in TT (and some of the world) must have seen
THIS VIDEO CLIP
of England's
egret
-looking Crouch holding onto our Sancho's hair and pulling him viciously back in order to propel himself upwards so that he could score England's first goal. I received that video clip as well as still photo versions of the incident in quite a few e-mails yesterday.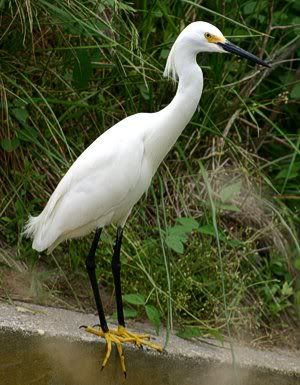 The Snowy Egret

Photo from this webpage
Photos Copyright ©2005 The Assateague Naturalist
No need to surmise whose victory it would have been had that not happened. But oh well ... the sad truth is, whilst TT played an honest game and left the field gracefully at the end of the match, one doesn't have to be psychic to predict that the English would not have accepted defeat from 'little Caribbean boys' with such elegance and humility. It would have been the height of embarassment for the 'Lions' ... and one does not have to stretch the imagination far to wonder whether their fans would have taken defeat with a quiet shrug or started a World War III scale riot. TT fans were warned, before the match that win or lose, they should wait until the stadium clears before they leave.
*
However, even in the face of photographic replay evidence, TT is not making a hulabaloo about this. Rather, we are acknowledging that it happened and focusing on what really matters now. We are moving on with quiet confidence to face Paraguay.
*
Today's Guardian features the FOUL PLAY on the front page and states the following:
T&T will not be lodging a complaint against England in connection with allegations by Soca Warrior Brent Sancho that England's Peter Crouch pulled Sancho's hair in scoring his goal in Thursday's match, Fifa vice- president Jack Warner said yesterday. Crouch's goal had been the first out of two for England, relieving the English side which had suffered 83 anxious minutes of fight from the Soca Warriors. Crouch received the ball from a David Beckham kick, tussling with Sancho before heading it into the net between Sancho and T&T goalie Shaka Hislop. Yesterday, Warner said: "It wouldn't make any sense at this point because it seems the Japanese referee was overawed by the fact that he was supervising a game in which the English players were worth close to $1 billion pounds as opposed to the TT side worth about $20 million (US)." "But we are all happy that all of T&T and the world saw what happened and saw that Sancho played fairly because that is the way he knows how and others followed their own standards. The football world now knows that T&T cannot be taken for granted." Warner said he and the team were looking forward to Tuesday's match against Paraguay and "that the victory that was stolen from us by England will be recovered," he said.
*